Introducing my Kunstkiosk:
When visiting my daughter in the US I often talk about my 'Kunstkiosk' = 'Artkiosk' and hand out my card, so I better say some words in English.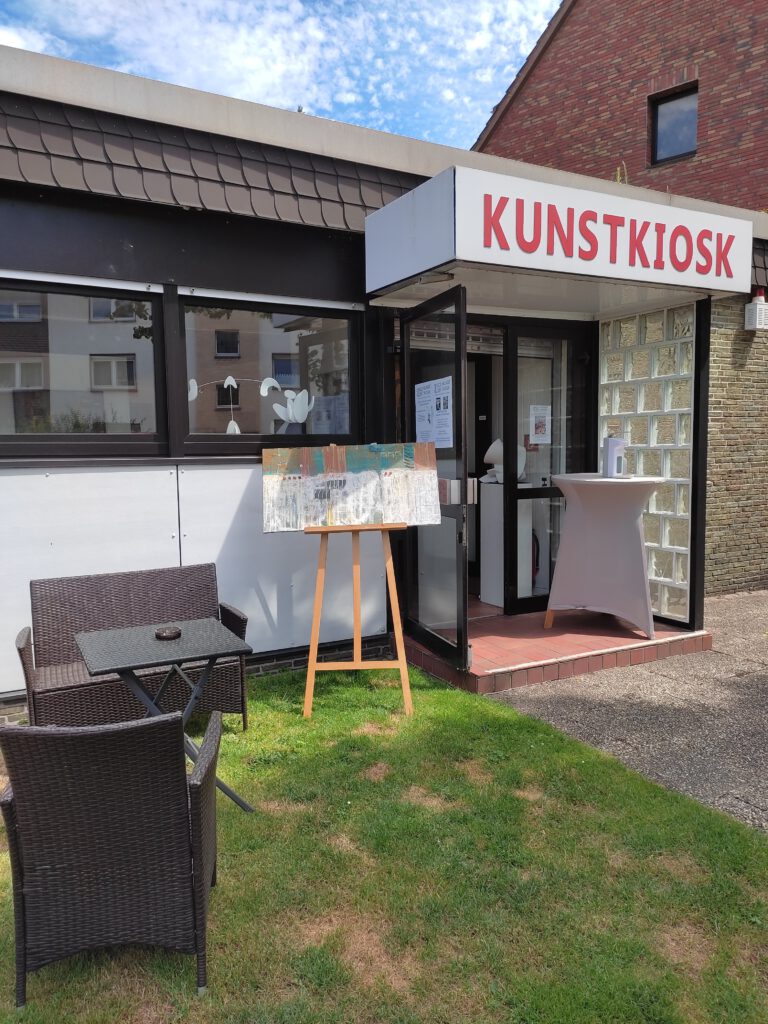 The idea for it sprang up in 2015 when I put up some of my artwork for sale in the former corner pub attached to my apartment building. A colleague of mine from an earlier art class came up to me stating that there are few opportunities for amateur artists to show their work. Yeah, why not open up a gallery for amateur artists! And a year later I got my license for a gallery to show and sell art work. At first I wanted to call it 'gallery for the overlooked genius' it was more of a rhyme in German: "Galerie für das verkannte Genie" but then my friend came up with the idea of a kind of department store setup for artwork, displayed in a simple way at a reasonable price. That little corner pub was too small for a department store but big enough for a Kiosk, which was a common thing in Germany in the last 150 years for working people to do their shopping for basic groceries after opening hours of the regular stores and it was the place to meet up for chatting with colleagues and neighbors after work. So my little galery became the 'Kunstkiosk – a room for exhibition and communication', as can be seen in the logo.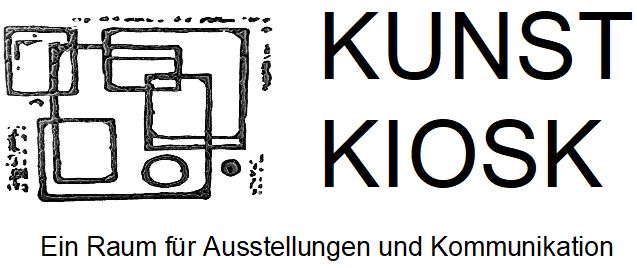 This square design – by the way – is simply the design on the square doorhandle done in enamel, a feature in the 60ties, when it was built.
My original idea was to show some of my sculptures and the work of another artist. This idea was ok for the first 2 shows but after that it was more fun to have just one artist or group of friends show their work and occasionally show my work. The first show with 'light objects' by my friend Horst Schielmann was opened at the end of January 2017.
It just so happened that a month later I had my 70th birthday, a good opportunity to celebrate with many guests and lots of conversation. It also provided the contact to the next amateur artist to show her work a few months later. Horst Schielmann also had quite a number of musician and other art friends and we had music and reading events in the Kunstkiosk. Over the last 5 almost 6 years I've had about 30 shows and met some 200 or so people who are now on my mailing list.
One of the great things that happened to me especially in 2022 was that people came up to me asking to show their work, perform their music or read their texts in my Kunstkiosk. I take it as a confirmation that I took the right step when I opened my gallery even though it's not fully supporting itself. I am fullfilling a community service by giving elderly people, some artists, an opportunity to show their work and meet with other people interested in art. This coming year 2023 I'm actually starting out with two young artists, still in art college showing their photographic work. And in February – when my Kunstkiosk will be 6 years old – the time when German kids start school – I have a former school teacher show her art work and read from her books.
And there's one new project that I need to tell you about: in my last Easter break – from teaching English to adults at a local community college (another fun activity I really enjoy) – I spent a few days in Vienna to see an Ai Wei Wei show there and on the way back we stopped at the "museum-frieder-burda" for this incredible show of a "Crochet Coral Reef".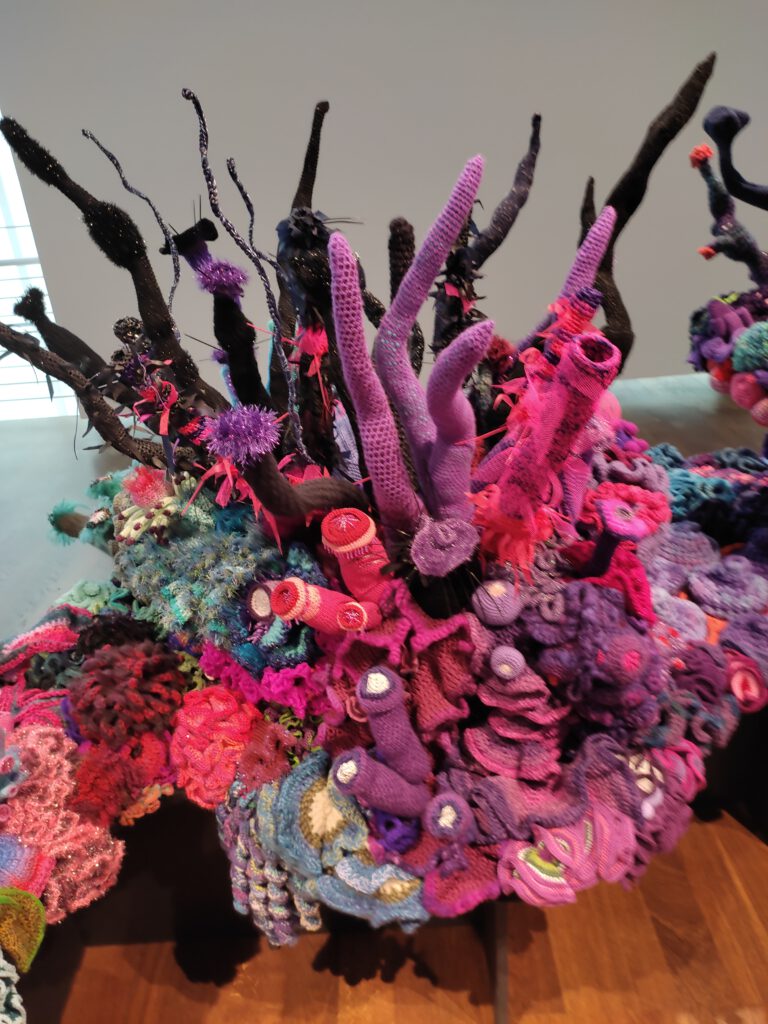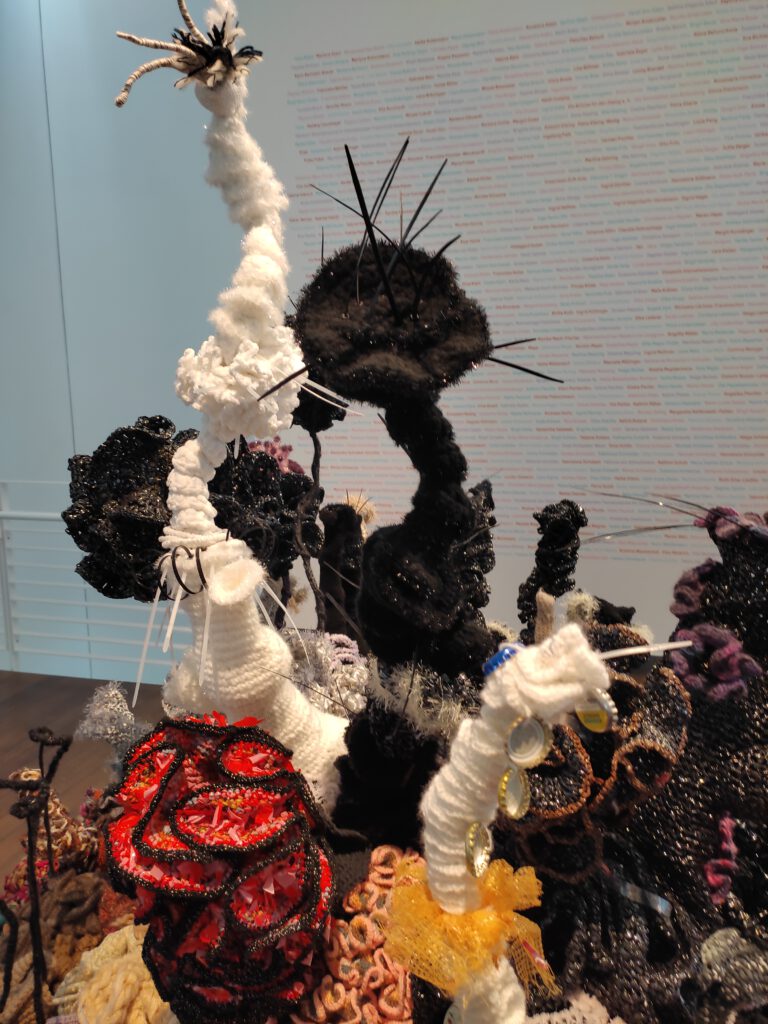 That show really blew me away, all these colorful objects which look like somewhat real underwater creatures that make you think about their endangered existence due to the climate change. Just for your information this show goes back to the idea of 2 Australien women, Margaret and Christine Wertheim, now living in Los Angeles. In 2003 they started the 'Institute For Figuring' IFF, a non-profit organization, which they like to call "a play tank". The IFF's mission is to contribute to the public understanding of scientific and mathematical themes through innovative programming that includes exhibitions, lectures, workshops, and participatory, community-based projects such as the Crochet Coral Reef. I can only recommend to check out their website and listen in to various TED Talks by these two ladies, (and you might be guided to many more websites on these interesting topics).
So when I came back to my Kunstkiosk I knew that I wanted to do a crochet coral reef in here. It will happen some time this summer; I've already gathered a group of people doing some crocheting and we will have lots of fun crocheting and meeting people in the process and at the show. I will keep you posted on my website under 'Korallenriff Projekt' – not sure if I can always bring you up to date in English, though. The subtitle 'Veranstaltungen' will give the current information with at least one foto of what's coming up. You may even send me a comment or some of your ideas via email under info@kunstkiosk-ge.de